To use this plugin you must first install the Advanced Sidebar Menu plugin which may be downloaded for free:
Once you purchase the PRO version, you will receive a download link for the PRO plugin within the order email. You may also download the PRO plugin anytime by going to the My Account section of this site. Upload the PRO plugin using the standard WordPress plugin installer and activate both the PRO and free plugins.
Here are some step by step instructions.
---
Customize link title or exclude the page.
When editing a page, look for the Advanced Sidebar meta box in the sidebar.
The meta box is also available on other post types which are public and hierarchal.
Change the text to whatever you would like, then save your page like normal. When this page's link displays in the widget, it will automatically get your custom text.
If you check the box to exclude the page, it will be removed from all Advanced Sidebar Menus.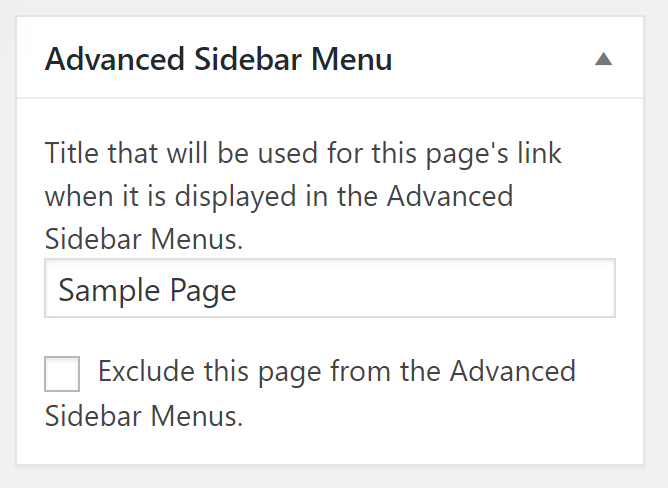 ---
PRO Version Widgets
Each widget contains its own section within the documentation
Widget styles have their own section within the documentation
Accordion options have their own section within the documenation
---
Gutenberg Blocks
This plugin supports the following Gutenberg Blocks.
Advanced Sidebar – Pages.
Advanced Sidebar – Categories.
Advanced Sidebar – Navigation.
More information may be found in the Gutenberg Blocks documentation.