Version 2.7.0 is ready and available for you to download or update through the WordPress Admin. This version was about making the tools page more automated and intuitive, as well as setting the standard of UX going forward.
Preventing errors
Previously, even though we don't recommend it, you could submit the update without selecting any sections. This would throw a fatal error and do nothing but show a white screen if errors were disabled.
The plugin now prevents this process in two ways:
The submit button is now disabled when no sections are selected.
If somehow you are still able to submit the form, the issue is noticed and a helpful error message is shown without throwing a fatal.

Track checked sections after submit
You have always been given a message to let you know "the checked sections have been updated." Now when the page reloads, only the submitted sections will display as checked. This also works the same when using the full table list.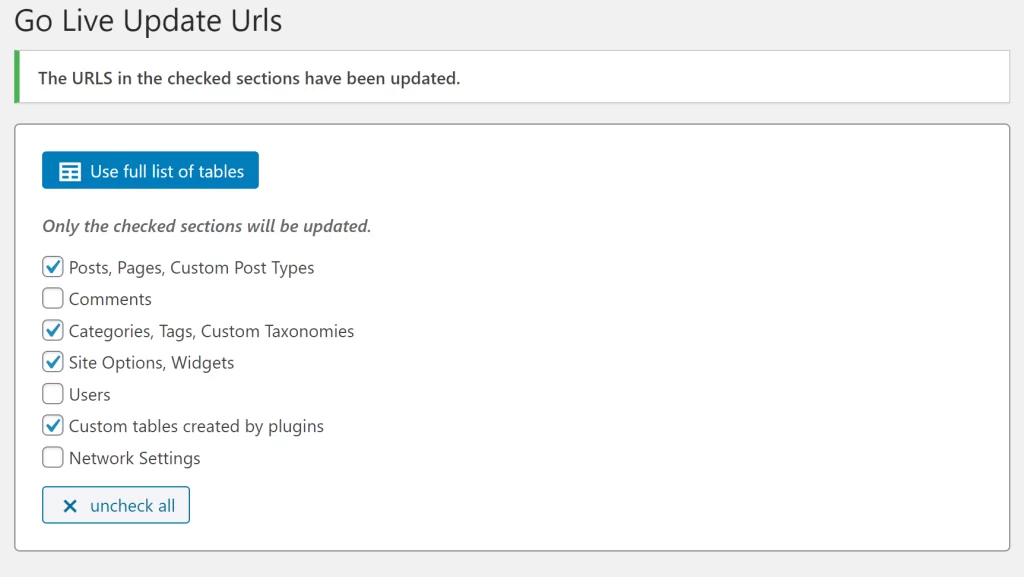 Cleaner tools screen:
After updating your URLs, we figured you probably have already seen the warnings and information found at the top of the tools screen. Now the information will only display before you submit, thus showing you only the relevant information and giving you more confidence the tool has completed.

Miscellaneous
Fixed button icon positions for WordPress Core 5.3.
General styling improvements for the tools screen.
Fixed issue with third-party plugins naming their database column the same as a MySQL command.